Il est impos­sible de négli­ger l'ap­port et le rôle de Phil Upchurch dans la musique afro-amé­ri­caine, dans la soul, le gos­pel, le blues, le jazz. À la fois bas­siste et gui­ta­riste, aus­si à l'aise et raf­fi­né sur les deux ins­tru­ments, il perce en 1961 avec le Phil Upchurch Com­bo et son You can't sit down. Petite mer­veille de fac­ture clas­sique rhythm & blues, le titre consiste en un dia­logue ins­tru­men­tal entre la gui­tare, un orgue ham­mond déchaî­né et une basse, un saxo­phone.
Fait anec­do­tique ou décou­verte déci­sive, c'est l'é­coute de la basse de Phil Upchurch sur ce disque qui décide John Bald­win, futur "John Paul Jones", musi­cien de stu­dio bri­tan­nique d'a­bord cla­vié­riste ( et futur Led Zep­pe­lin) à se conver­tir à la basse Fen­der.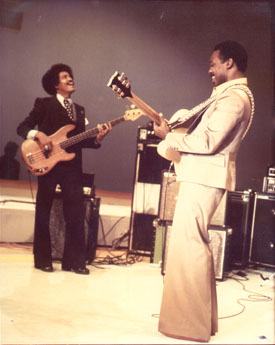 Je retiens per­son­nel­le­ment la contri­bu­tion de Phil Upchurch à l'al­bum légen­daire de Don­ny Hatha­way, Eve­ry­thing Is Eve­ry­thing et par­ti­cu­liè­re­ment au titre Voices Inside (Eve­ry­thing Is Eve­ry­thing) co-écrit par Richard Evans, Ric Powell, Phil Upchurch (et déjà évo­qué ici pour l'in­croyable impro­vi­sa­tion à la basse du jeune Willie Weeks sur la ver­sion live). Comme sou­vent, il y excelle tant à la gui­tare qu'à la basse élec­trique. Pour mémoire, on retrouve éga­le­ment l'ex­cellent Louis Sat­ter­field à la basse (I Believe to My Soul, reprise de Ray Charles arran­gée pour l'oc­ca­sion en majeur, lui don­nant un nou­veau souffle indé­niable) ain­si que Mar­shall Haw­kins à la contre­basse (sur Sugar Lee).
Enfin, ne man­quez pas de jeter une oreille sur l'ho­no­rable The Way I Feel de Phil Upchurch paru chez Cadet en 1969, qui fait figure de pré­lude à l'ex­cellent album de Don­ny Hatha­way quelques mois plus tard chez Atlan­tic. On y retrouve une équipe de musi­ciens de classe : Phil Upchurch (gui­tare), Don­ny Hatha­way (pia­no), Louis Sat­ter­field (basse), Mor­ris Jen­nings (bat­te­rie) et Bob­by Chris­tian (per­cus­sions).